About Amy DeVault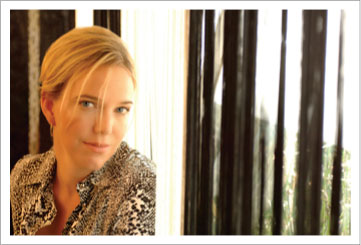 Since the Inception of her company, Amy Devault Interior Design in 1989, Los Angeles-based interior designer Amy Devault has been designing residential and commercial interiors with signature style, understated charm, and seemingly effortless elegance. Devault infuses each project with accents of her own eclectic and impeccable tastes-tastes that embrace the old and the new, title simple and the ornate, the lustrous and the organic, the fashionable and glamorous and the classic and stately. Most importantly, Devault imparts her inimitable style while diligently respecting-and even helping to realize and shape-her clients' tastes as well as lifestyle needs and the stylistic demands of the architectural space.
DeVault's New England-upbringing in Kennebunkport, Maine, and her early exposure to travel, art, fashion, and culture inspired her to become a designer. DeVault's mother, a former model,  expressed an artistic bent of her own, bought old homes, fixed them up, and decorated them with her daughter, helping to cultivate her creativity.
Devault spent summers at up­scale hotels and manor homes in Europe with her father. an English professor who taught internationally; these trips captured the child's imagination and inspired a fascination with architecture and interior design at an early age.
At 19, Devault moved to California, where she studied design at Santa Monica College. While in school, she interned with Janus et Cle at the Pacific Design Center, and then secured a job with highly-respected interior designer Karina Oldemans before venturing out on her own.
Devault often introduces elements of current fashion in her work, combining the glamorous with the vintage to create elegant, layered, and subtly nuanced designs. With an experienced staff behind her, DeVault's approach to design is custom-tailored to her clients' lifestyle needs-the way they actually live their day-to-day lives­ as well as to the architectural style of their homes.
Devault has a diverse portfolio, designing residential interiors for such high-profile entertainment and Fortune 500 business clients and commercial spaces as well as surgical centers In and around Los Angeles. Devault participated in the design of the Pasadena Showcase House from 1996 to 2004, and in 2014 also designed a room for Elle Decor's "Dining by Design" event to benefit DIFFA (Design Industries Foundation Fighting Aids).
DeVault's work has been showcased in several design publications and has been featured on such television programs as HGTV's Kitty Bar­tholomew: You're Home, Discovery Channel's Christopher Lowell, and segments on NBC Network News.
Devault resides in Venice, California, with her husband, fashion designer Rene Acuna, their son, two dogs and two cats.
2016 Amy DeVault Interior Design. All Rights Reserved